PSHE through stories - personal concerns
Academic Year 2018/19
Archived
This listing contains a selection of titles relating to nine broad themes in this topic. The majority of titles are suitable for Key Stage 1 unless otherwise listed The list is regularly updated with the latest additions to the collection. New titles are added to both the relevant section and the "New for 2018" section at the top so you can see new stock at a glance. This list can also be accessed on the Library catalogue by searching for "PSHE through stories - personal" or from the School Resources page on the Library Intranet site. Where to find the stories listed: In Child fiction, prefixed CF on the Library catalogue. In Young fiction, prefixed YF on the Library catalogue. Within the information books. Feelings and emotions, held at c152.4, PSHE held at c155.418, and Family life held at c306 are good places to start.
This list has been archived
For example: Aggressiveness, lying, naughtiness, stealing, teasing.

For example: Honesty, sharing, politeness

Manners & ettiquette

3 items

Bedtime / bedtime problems (bedwetting)

13 items

Ellie's secret diary - Henriette Barkow, Sarah Garson, Qamar Zamani, Urdu translation by Qamar Zamani 20041844442659

Book

Emotions & feelings

201 items

Courage / bravery

8 items

Fears / being scared

34 items

Loneliness/shyness/social acceptance

36 items

Judy Moody - Megan McDonald, Peter Reynolds 20061406302139

Book Key stage 2 The first of a series of books.

Well being/self-esteem/ confidence

22 items

Worries / anxiety

15 items

Social situations

5 items

First experiences—school, hospital, dentist

30 items

Ivan the Terrible - Anne Fine, Philippe Dupasquier 20071405233249,1405233257,9781405233248,9781405233255

Book Key stage 2

Imaginary friends

5 items

A flower in the snow - Tracey Corderoy, Sophie Allsopp 20121405249455,1405249447,1780312490,9781405249454,9781405249447,9781780312491

Book

Is that a coconut? Yuck! - Tony Bradman, Katharine McEwen 20121405263725,1405263717,1780312482,9781405263726,9781405263719,9781780312484

Book KS1

Picnic in the park - Joe Griffiths, Tony Pilgrim, Lucy Pearce, British Association for Adoption & Fostering 20071905664087,9781905664085

Book KS1

Grace at Christmas - Mary Hoffman, Cornelius Van Wright, Ying-Hwa Hu 20111847801471,9781847801470

Book KS1

The abominables - Eva Ibbotson, Sharon Rentta 20121407132970,140713549X,9781407132976,9781407135496

Book KS2

Sibling relations

32 items

The perfect baby - Tony Bradman, Holly Swain 20091405206918,1405227559,9781405206914,9781405227551

Book

Double act - Jacqueline Wilson, Nick Sharratt, Sue Heap 20060440867592,9780440867593

Book Key stage 2
Creative Commons Attribution-NoDerivs 3.0 Licence
Profile Required
Reading intentions and notes are stored against your user profile. Please create a profile to use this feature.
My notes
You must be logged in to add a note
What are item notes?
You can use item notes to make personal notes on any of your reading items. Notes are private to you and will not be shown to other users.
You can review your item notes from the list, the item page or from your profile page.
---
How do I create an item note?
To make notes, first you must be logged in. Once logged in, simply click Add note? next to the list item you wish to make notes on. You can also make notes at the bottom of every item's detail page.
Your note will be saved automatically as you type.
Have you read this?
You must be logged in to set a reading intention
What are reading intentions?
Setting up reading intentions help you organise your course reading. It makes it easy to scan through your lists and keep track of progress. Here's an example of what they look like: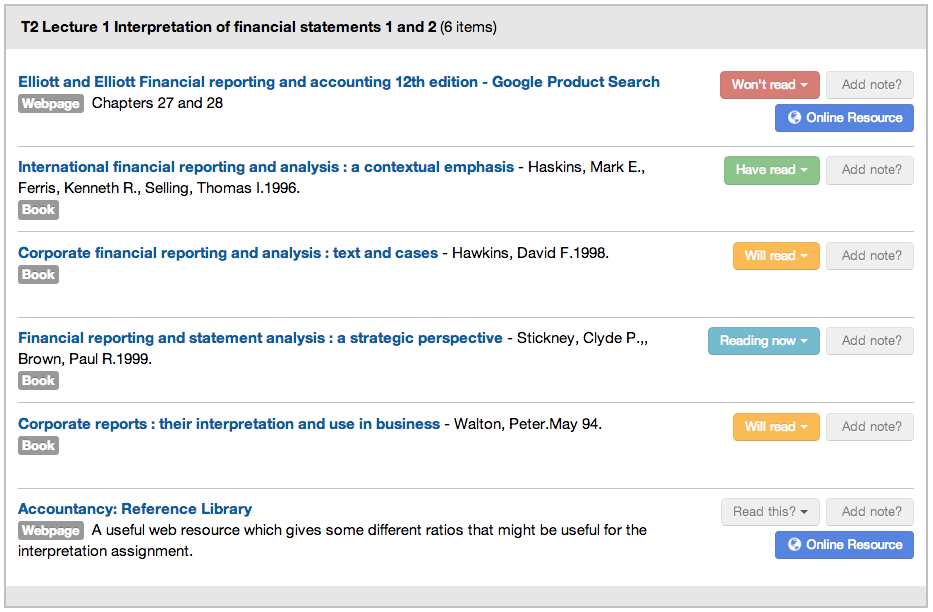 Your reading intentions are also stored in your profile for future reference.
---
How do I set a reading intention
To set a reading intention, first you must be logged in. Once logged in, click Read this? next to the list item you wish to set a reading intention for.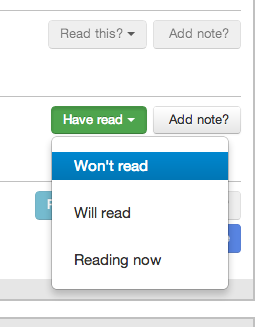 You can also set the reading intention from every item's detail page.