History through stories
Academic Year 2018/19
Archived
These stories relate to a general historical theme, such as change through time, or they are set in a specific historical time period. The selection reflects National Curriculum recommendations for KS1 and KS2. The list is regularly updated with the latest additions to the collection. New titles are added to both the relevant section and the "New for 2018" section at the top so you can see new stock at a glance. This list can also be accessed on the Library catalogue by searching for "History through stories" or from the School Resources page on the Library Intranet site.
This list has been archived
Myths and Legends

10 items

We also have a selection of Ancient Greek, Ancient Egyptian, Ancient Roman and Viking myths in our Myths and Legends section.

Ancient civilisations

77 items

Medieval history

14 items

The Canterbury tales - McCaughrean, Geraldine, Ambrus, Victor, Chaucer, Geoffrey 1984019278109X

Book KS2

Tudor and Stuart times

62 items

Hamlet - Garfield, Leon, Shakespeare, William, Orlova, Natalia, Kotov, Peter 19920563351888

Book KS2

Victorian and Edwardian Britain

64 items

Britain since 1930

25 items

World history since 1900

17 items
Creative Commons Attribution-NoDerivs 3.0 Licence
Profile Required
Reading intentions and notes are stored against your user profile. Please create a profile to use this feature.
My notes
You must be logged in to add a note
What are item notes?
You can use item notes to make personal notes on any of your reading items. Notes are private to you and will not be shown to other users.
You can review your item notes from the list, the item page or from your profile page.
---
How do I create an item note?
To make notes, first you must be logged in. Once logged in, simply click Add note? next to the list item you wish to make notes on. You can also make notes at the bottom of every item's detail page.
Your note will be saved automatically as you type.
Have you read this?
You must be logged in to set a reading intention
What are reading intentions?
Setting up reading intentions help you organise your course reading. It makes it easy to scan through your lists and keep track of progress. Here's an example of what they look like: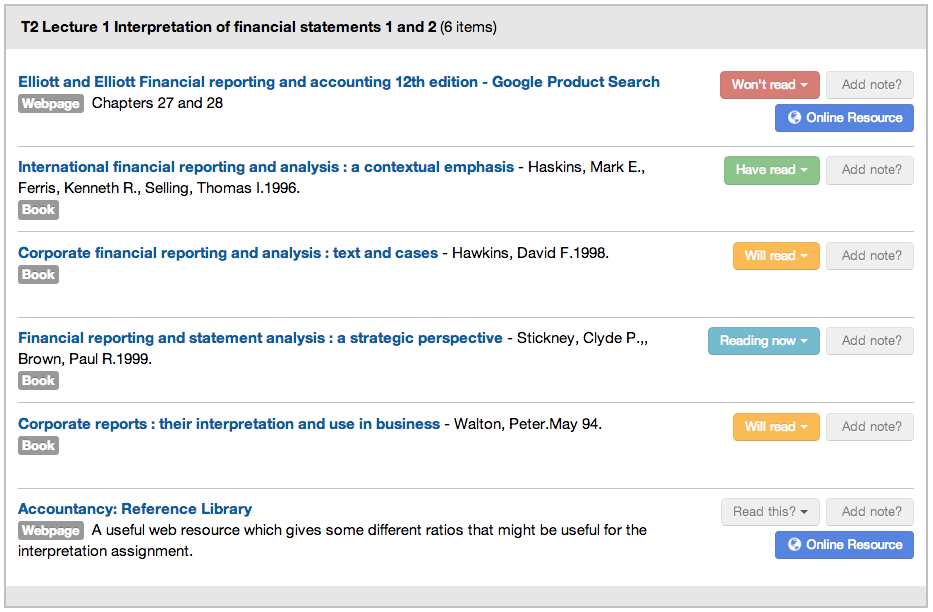 Your reading intentions are also stored in your profile for future reference.
---
How do I set a reading intention
To set a reading intention, first you must be logged in. Once logged in, click Read this? next to the list item you wish to set a reading intention for.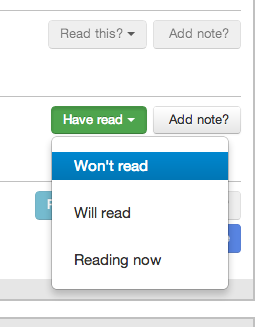 You can also set the reading intention from every item's detail page.