Books with Rhythm and Rhyme
Academic Year 2018/19
Archived
These books are great stories that play with language and are fun to read aloud.   Most of them are shelved in the YF (Young Fiction) section, but there are some (marked KS1/2) that are also aimed at older readers. Just search the catalogue to find the shelf-mark for the books in which you are interested. The list is regularly updated with the latest additions to the collection. New titles are added to both the relevant section and the "New for 2018" section at the top so you can see new stock at a glance. This list can also be accessed on the Library catalogue by searching for "Stories in rhyme" or from the School Resources page on the Library Intranet site.
This list has been archived
All titles listed alphabetically by author

285 items

The yoga ogre - Bently, Peter, Rickerty, Simon 20121847389023,1847389031,0857077066,9781847389022,9781847389039,9780857077066

Book

Hairy Maclary series

7 items

The great Snortle hunt - Freedman, Claire, Hindley, Kate 20120857072625,0857072633,0857077082,9780857072627,9780857072634,9780857077080

Book
Creative Commons Attribution-NoDerivs 3.0 Licence
Profile Required
Reading intentions and notes are stored against your user profile. Please create a profile to use this feature.
My notes
You must be logged in to add a note
What are item notes?
You can use item notes to make personal notes on any of your reading items. Notes are private to you and will not be shown to other users.
You can review your item notes from the list, the item page or from your profile page.
---
How do I create an item note?
To make notes, first you must be logged in. Once logged in, simply click Add note? next to the list item you wish to make notes on. You can also make notes at the bottom of every item's detail page.
Your note will be saved automatically as you type.
Have you read this?
You must be logged in to set a reading intention
What are reading intentions?
Setting up reading intentions help you organise your course reading. It makes it easy to scan through your lists and keep track of progress. Here's an example of what they look like: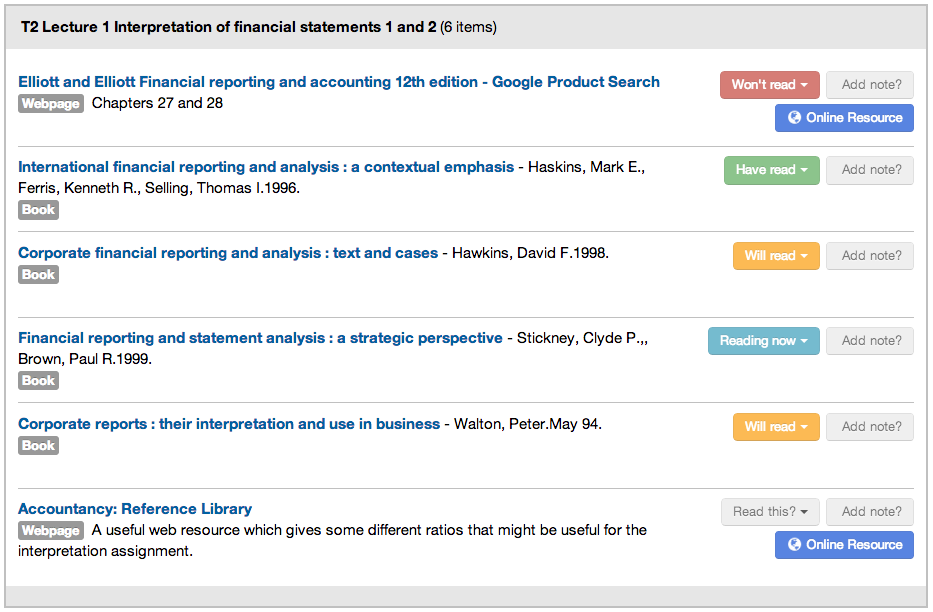 Your reading intentions are also stored in your profile for future reference.
---
How do I set a reading intention
To set a reading intention, first you must be logged in. Once logged in, click Read this? next to the list item you wish to set a reading intention for.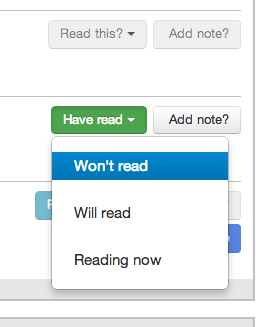 You can also set the reading intention from every item's detail page.