RT2513 / RT3513 "The Many Faces of Jesus"
Semester Two 2018/19
WEEK 1: Introduction: Jesus in the Gospels

13 items

The Bible we will use is the New Revised Standard Version (NRSV). It will be useful to have a copy of this version to bring to class, but you can also find texts online using http://bible.oremus.org/.

WEEK 2: Jesus in Paul

20 items

Required Reading

11 items

WEEK 2 ADVANCED SEMINAR: Discovering Jesus in the Prologue to John's Gospel

5 items

Read John's Gospel, and make notes on John Chapter 1.

WEEK 3: Jesus on Jesus

10 items

WEEK 4: Jesus: Creeds, Councils and Christology.

8 items

WEEK 4 ADVANCED SEMINAR: Book Discussion on the Impact of N. T Wright.

11 items

N.T Wright has his own website with a large collection of more popular articles: http://ntwrightpage.com/

Further reading – books by N. T. Wright

5 items

WEEK 5 Jesus Saves: Soteriology

6 items

For those Interested in the Salvation Army:

WEEK 6: Jesus the teacher: Teaching and Ethics

14 items

WEEK 6 ADVANCED SEMINAR: Jesus in Patristic theology and Apologetics

9 items

WEEK 7: ENRICHMENT WEEK

1 item

WEEK 8: The Birth and Death of Jesus in Contemporary Theology

16 items

It is planned that for this Lecture will combine with a visit to a place of Christian worship, and historic Church building.

WEEK 8: ADVANCED SEMINAR: Jesus Theology in Worship, Arts and Architecture

14 items

This booklet may be helpful for those not familiar with Church Architecture:

This workshop will be open to both year 2 and Year 3 Students, and will follow on form the lecture.

Students are advised to bring a notebook and camera/phone.

Contemporary Theology in Worship – to be viewed.

5 items

WEEK 9: The Resurrection of Jesus in contemporary Theology

3 items

This week will explore the resurrection of Jesus in contemporary theology and the life of the Spirit, and contemporary Christian Discipleship.

WEEK 10: Jesus in Islam

17 items

WEEK 10: Advanced Seminar Demythologising Demythologisation

11 items

WEEK 11: Jesus, Empire and Power

13 items

WEEK 12: Jesus and Gender

12 items

WEEK 12 ADVANCED SEMINAR: Jesus, Blackness and African Christianity

8 items
Creative Commons Attribution-NoDerivs 3.0 Licence
Profile Required
Reading intentions and notes are stored against your user profile. Please create a profile to use this feature.
My notes
You must be logged in to add a note
What are item notes?
You can use item notes to make personal notes on any of your reading items. Notes are private to you and will not be shown to other users.
You can review your item notes from the list, the item page or from your profile page.
---
How do I create an item note?
To make notes, first you must be logged in. Once logged in, simply click Add note? next to the list item you wish to make notes on. You can also make notes at the bottom of every item's detail page.
Your note will be saved automatically as you type.
Have you read this?
You must be logged in to set a reading intention
What are reading intentions?
Setting up reading intentions help you organise your course reading. It makes it easy to scan through your lists and keep track of progress. Here's an example of what they look like: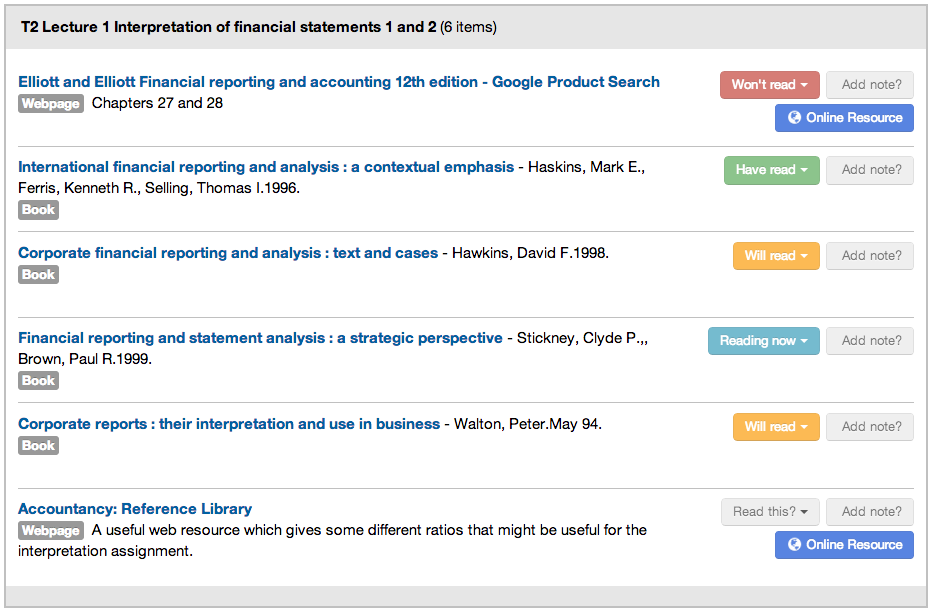 Your reading intentions are also stored in your profile for future reference.
---
How do I set a reading intention
To set a reading intention, first you must be logged in. Once logged in, click Read this? next to the list item you wish to set a reading intention for.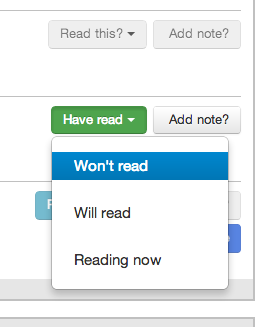 You can also set the reading intention from every item's detail page.