HS2911 Stalinism
Semester Two 2018/19
JOURNAL ARTICLES ARE AVAILABLE ELECTRONICALLY ON JSTOR, OR THROUGH EJS, Project MUSE, informaworld.com and IngentaConnect. You can search for articles via the Library catalogue or use their 'Full text finder' link on the Intranet Library page to search for a specific article via the journal titles or to browse a particular journal.

Introductory works

5 items

The Stalin years: a reader - Christopher Read 20030333963431,0333963423,9780333963432,9780333963425

Book (a useful collection of essays)

Stalin: biographies

15 items

Industrialisation and collectivisation

8 items

Public culture, private life

27 items

Great Patriotic War

9 items

International Relations and the Cold War

6 items

Cold War International History Project

Webpage A rich source of documents and primary materials, as well as academic articles on the Cold War, bringing to light especially the previously unavailable sources from the Soviet side.

Seventeen Moments in Soviet History

Website A superb source giving an engaging introduction to a rich variety of important events and themes in Soviet history in a chronological order. Select a year and then a topic ('a moment'), and then explore the original documents, useful links, images and even sounds associated with it. You can, for instance, watch the 1930s advertisement of Soviet Champagne.
Creative Commons Attribution-NoDerivs 3.0 Licence
Profile Required
Reading intentions and notes are stored against your user profile. Please create a profile to use this feature.
My notes
You must be logged in to add a note
What are item notes?
You can use item notes to make personal notes on any of your reading items. Notes are private to you and will not be shown to other users.
You can review your item notes from the list, the item page or from your profile page.
---
How do I create an item note?
To make notes, first you must be logged in. Once logged in, simply click Add note? next to the list item you wish to make notes on. You can also make notes at the bottom of every item's detail page.
Your note will be saved automatically as you type.
Have you read this?
You must be logged in to set a reading intention
What are reading intentions?
Setting up reading intentions help you organise your course reading. It makes it easy to scan through your lists and keep track of progress. Here's an example of what they look like: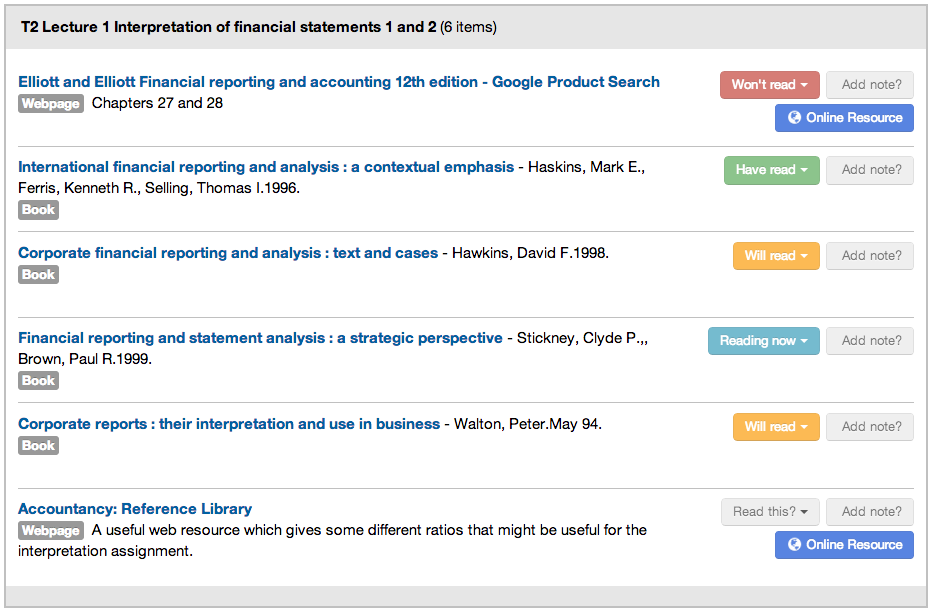 Your reading intentions are also stored in your profile for future reference.
---
How do I set a reading intention
To set a reading intention, first you must be logged in. Once logged in, click Read this? next to the list item you wish to set a reading intention for.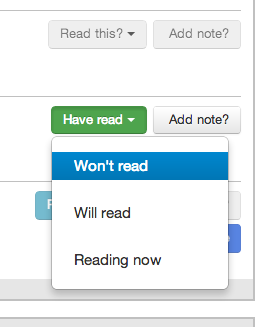 You can also set the reading intention from every item's detail page.