EN3062 Ideology and Semiotics
Semester Two 2018/19
This list includes the reading you are expected to do in advance of your seminars/workshops as well as an extended list of suggested and recommended readings that you can use as a starting point for further research. Where there is more than one source in the Required Reading section you DO NOT have to read them all - you can choose which one you want to read. You will see that this is a multimedia list and includes videos, documentaries, literature etc. Of course, you are welcome to read/listen to/watch everything on this list if you want to.
Week 1 Introduction

8 items

Additional Readings and Resources

7 items

Key terms in semiotics - Bronwen Martin, Felizitas Ringham 20060826484565,0826484557,9780826484567,9780826484550

Book

Week 2 Introduction

9 items

There is no specific required reading for this week. Instead of this, please look back through the PowerPoints on Ideology from EN2063 Discourse Analysis (these will be on the Canvas Page for you).

Additional Readings and Resources

8 items

On ideology - University of Birmingham. Centre for Contemporary Cultural Studies 19780091341507,0091341515

Book

Week 3 Nations, States, Authorised Violence

7 items

Additional Readings and Resources

6 items

Week 4 Education, Media, Representation

10 items

Additional Readings and Resources

9 items

Week 5 Race, Ethnicity, Diversity

16 items

You can read any chapter(s) you like from any one or more of these.

Additional Readings and Resources

13 items

Archive on 4: 50 Years On - Rivers of Blood Saturday, 14 Apr 2018

Audio document Recommended This is a reading of Enoch Powell's 'Rivers of Blood' speech (some of you are already familiar with this). The speech itself was never recorded, but Radio 4 produced this to mark 50 years since the speech was first delivered. It is uncomfortable listening in places, but it's important to be aware that these views were commonplace at that time (although Powell was sacked for making this speech), and that these views and beliefs are still around today.

Front Row Monday, 13 Feb 2017

Audio-visual document This includes a review of the film Hidden Figures (from 02:00 to 07:00). If you haven't watched the film, I highly recommend it. The book is listed below here as well.

Week 6 Music, Art, Culture

5 items

Additional Readings and Resources

4 items

Week 7 Assessment Focus

7 items

There are no compulsory readings for this week, but the materials/books/articles here are designed to help you think about the practicalities of conducting your Text Analysis and preparing for your seminar papers. You may also find it useful to return to some of these over the Easter/spring break while you're conducting your Text Analysis.

Writing Abstracts

3 items

The sources here are designed to help guide you through constructing a good abstract for your seminar paper.

Week 8 Gender, Sexuality, Desire

11 items

Sexed texts: language, gender and sexuality - Paul Baker 2008

Book Essential You should read one of any of the following chapters: Chapter 4 Constructing Normality: gendered discourses and heteronormativity; Chapter 5 Maintaining Boundaries: hegemony and erasure; Chapter 6 Selling Sex: commodification and marketization. We have this as both print and ebook.

Additional Readings and Resources

10 items

Story of the eye - Georges Bataille, Susan Sontag, Roland Barthes 19820140180095

Book Background This is erotica, some of you may not be comfortable with elements of this, even if you are comfortable with some pornography.

Week 9 Health, Ability, Responsibility

12 items

Additional Readings and Resources

11 items

Social Semiotics 2005

Journal This is a special issue of the journal on obesity.

Ian Dury & The Blockheads : Spasticus Autisticus - YouTube - Folk rock. Australian rock. More. 2009

Audio-visual document You may find the title and use of terminology in this song offensive. You do not need to listen to it. You might find it useful to look up who Ian Dury was and why he wrote this song though.

Weeks 10, 11, 12 Seminar Papers

0 items

There are no compulsory readings for these weeks, but I have included some general resources here that you might find helpful when thinking about presenting your seminar papers.

General Readings and Resources

2 items

You may find some of these appear above in specific weeks. They are repeated here to demonstrate that they are useful more generally.

EN 3062 Ideology and Semiotics Resources

Audio-visual document This is my BOB playlist for the module, not everything on here will necessarily be used in the reading list above, but you can look through this playlist whenever you like - also feel free to recommend anything that you think I should add to it.
Creative Commons Attribution-NoDerivs 3.0 Licence
Profile Required
Reading intentions and notes are stored against your user profile. Please create a profile to use this feature.
My notes
You must be logged in to add a note
What are item notes?
You can use item notes to make personal notes on any of your reading items. Notes are private to you and will not be shown to other users.
You can review your item notes from the list, the item page or from your profile page.
---
How do I create an item note?
To make notes, first you must be logged in. Once logged in, simply click Add note? next to the list item you wish to make notes on. You can also make notes at the bottom of every item's detail page.
Your note will be saved automatically as you type.
Have you read this?
You must be logged in to set a reading intention
What are reading intentions?
Setting up reading intentions help you organise your course reading. It makes it easy to scan through your lists and keep track of progress. Here's an example of what they look like: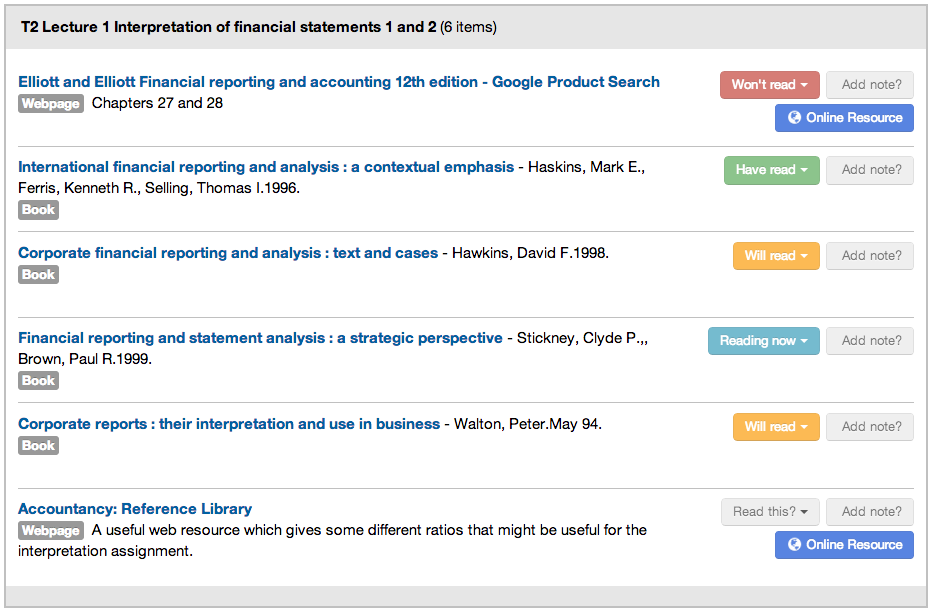 Your reading intentions are also stored in your profile for future reference.
---
How do I set a reading intention
To set a reading intention, first you must be logged in. Once logged in, click Read this? next to the list item you wish to set a reading intention for.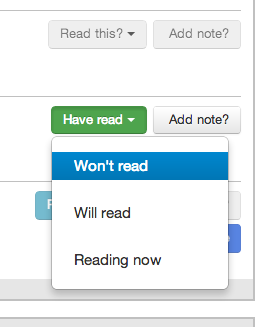 You can also set the reading intention from every item's detail page.