Earth Sciences Through Stories
Academic Year 2018/19
Archived
These stories relate to life processes, environmental or geographical themes or topics that involve specific geographic skills. Titles are grouped into the broad sub-categories of the National Curriculum, and an indication of Key Stage suitability is suggested. The list is regularly updated with the latest additions to the collection. New titles are added to "New for 2018" section at the top of each section so you can see new stock at a glance. This list can also be accessed on the Library catalogue by entering "Earth Sciences through stories" or from the School Resources page on the Library Intranet site. Where to find earth science stories…… In Child fiction, prefixed CF on the Library catalogue. In Young fiction, prefixed YF on the Library catalogue. In the Myths and Legends section there are stories which come from specific countries or regions; e.g. "ML/AFR" would contain Myths and Legends from Africa.
This list has been archived
Animals/insects (Including Food chains/webs and lifecycles)

102 items

Traditional Tales

4 items

Plants (Including Trees, Seeds and their lifecycles)

43 items

Traditional Tales

3 items

Evolution, fossils and dinosaurs

32 items

Environmental issues and environmental change

93 items

Traditional stories

2 items

Geographical skills and field work

6 items

Stories of Katie Morag - Mairi Hedderwick 2003 (graphic)

Image The Katie Morag stories all take place on a fictional island setting

Locational knowledge

139 items

Journeys & exploration

40 items

Fiction in which the characters undertake a journey of some kind

Traditional stories.

4 items

Fiction set in real places from around the world

Walkabout - James Vance Marshall, James Vance Marshall 20090141325682,9780141325682

Book Key stage 2

Traditional tales

2 items

Human and physical geography

101 items

Habitats and environments

29 items

Fiction set in generic habitats or environments, e.g. cities, the ocean, the countryside etc.

A visit to city farm - Verna Wilkins, Karin Littlewood, Chalkhill Primary School 20169781911402077

Book

Traditional stories

6 items

Solar system and space

14 items

Space exploration stories can be found in the Science and Technology through stories leaflet

My place in space - Robin Hirst, Sally Hirst, Roland Harvey, Joe Levine 20081741754046,9781741754049

Book Key stage 2
Creative Commons Attribution-NoDerivs 3.0 Licence
Profile Required
Reading intentions and notes are stored against your user profile. Please create a profile to use this feature.
My notes
You must be logged in to add a note
What are item notes?
You can use item notes to make personal notes on any of your reading items. Notes are private to you and will not be shown to other users.
You can review your item notes from the list, the item page or from your profile page.
---
How do I create an item note?
To make notes, first you must be logged in. Once logged in, simply click Add note? next to the list item you wish to make notes on. You can also make notes at the bottom of every item's detail page.
Your note will be saved automatically as you type.
Have you read this?
You must be logged in to set a reading intention
What are reading intentions?
Setting up reading intentions help you organise your course reading. It makes it easy to scan through your lists and keep track of progress. Here's an example of what they look like: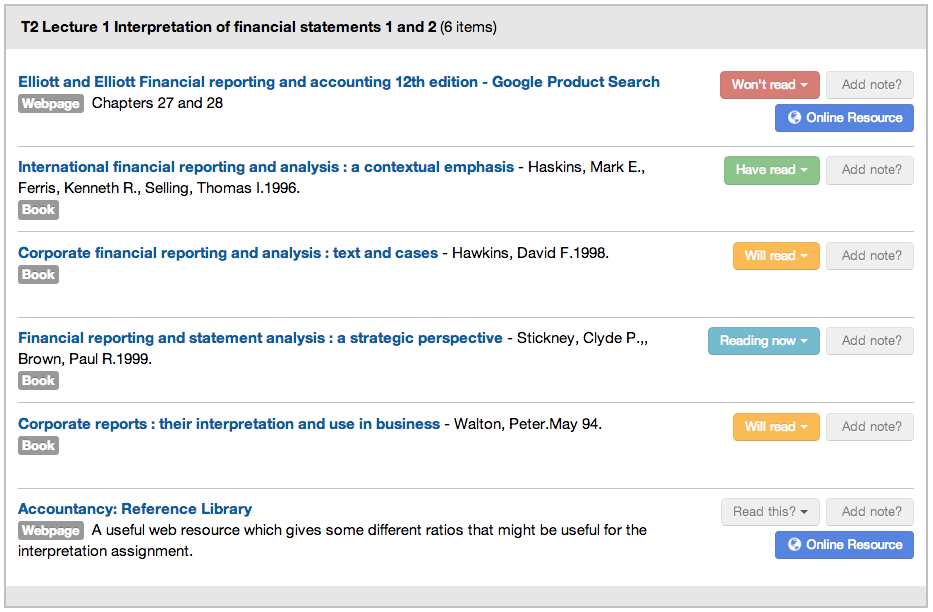 Your reading intentions are also stored in your profile for future reference.
---
How do I set a reading intention
To set a reading intention, first you must be logged in. Once logged in, click Read this? next to the list item you wish to set a reading intention for.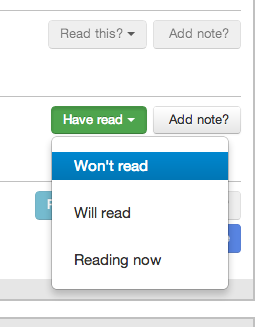 You can also set the reading intention from every item's detail page.