RT2505 / RT3505 Indigenous Religions
Semester Two 2018/19
Archived
RT2505: 21 students; RT3505: 12 students.
This list has been archived
Please note: 'Advanced Seminar reading' is for 3rd Year students.

Week 1: Introduction to Studying Indigenous Religions (taught session)

9 items

In this introductory week we shall consider what Indigenous Religions/Indigenous Lifeways/Indigenous Spiritual Traditions might be, whether they might be any different from religious traditions previously explored during your studies, and how we might study them as non-Indigenous peoples.

This reading will be used to explore what the term Indigenous might mean:

We will then go on to explore how Indigenous Religions should be studied. This is not an easy question given the Western bias of scholarship - a topic that cannot be marginalised when exploring the lifeways of previously colonised peoples!

In 1995 Ron Grimes asked the following questions:

Should or should not European Americans be teaching courses on Native American religions?
If we should not, why not, and what would be the results of our deferral?
If we should, how best can we proceed?

We shall be considering these questions in the light of the work of Linda Tuhiwai Smith, D'Cruz and others. Further, a consideration of terms will be undertaken; what is meant by post- & de-colonization, what is authenticity? And of course, we will discuss whether these things are important.

Week 2: The Bible and Colonialism (taught session)

9 items

This week we shall explore colonialism and the impact of Christianity upon Indigenous peoples and their lifeways and religions. We shall also explore two Indigenous readings of the Bible: Native American and Aboriginal Australian. The week will lead us into the following week's session on appropriation.

Week 2: ADVANCED SEMINAR; Misson Schools

2 items

This week we will explore the Mission School system. For this please do some on-line research around the topic; although in the Australian context you may wish to watch the film Rabbit Proof Fence (2002). A notorious school was Carlisle and there are numerous photographs from this and many other mission schools and similar establishments.

Week 3: Cuban Santeria

6 items

This week we examine Cuban Santeria, with related topics including slavery and Christian missionisation, as well as Indigenous agency and syncretism. This session will start to complicate discussions on appropriation which will be explored later in the module.

Week 4: Andean ritual in contemporary Bolivia

11 items

Centuries of Spanish and Portuguese colonisation have introduced elements of Christianity into most if not all indigenous religions in the highlands of Latin America, including the Bolivian Andes. The resulting religious traditions are reproduced by vibrant communities of indigenous practitioners who privilege ritual experiences and ritual expertise over issues of authenticity and sincerity. This week we will explore their religious practices highlighting key issues such as the materiality of the divine in the Andes, the relations between humans and other-than-humans, and the power of rituals.

Week 4 ADVANCED SEMINAR

4 items

'Action' - James Laidlaw, Caroline Humphrey

Chapter Recommended

Week 5: Neo-colonialism and Appropriation (taught session)

7 items

Following on from week 2, this session will consider the appropriateness of the Western appropriation of Indigenous religions in the light of colonialism. This will lead us onto the issue of intra- vs inter-cultural appropriation and thus raise a number of questions around authenticity. This and later in weeks 8 and 9 we will explore North American Indian spiritual lifeways as an exemplar of relevant issues.

Week 6: Museums and the display of Indigenous spiritual artefacts

5 items

This week we return to the Morrison, and Halliwell readings and consider the other-than-human-persons in museums, as well as thinking about the ethics, given a legacy of colonialism, of the display or curating, of Indigenous sacred artefacts. This will ground the week 7 trip.

Week 6: ADVANCED SEMINAR; Exhibiting Saartjie Baartman; the Hottentot Venus

1 item

This week picks up on some of the previous weeks in terms of museum displays this week we explore the public display of humans. World's Fairs and Expositions regularly had people on display. The reading for this week includes a chapter of my PhD which gives a background to the visual display of North American Indian peoples which will be in PDF form; do note that the bibliography is from my entire thesis not just this one chapter.

WEEK 7: ENRICHMENT WEEK

1 item

trip to the Pitt Rivers Museum in Oxford (all day)

Week 8: North American Indian Spiritual lifeways (part 1)

17 items

This and next week we explore the spiritual lifeways of several North American Indian traditions. 

This week we will explore land & worldviews and considers the variety of religious traditions in North America, and the role of land in North American Indian traditions. In exploring North American Indian understandings of land, the concept of kinship and ancestors, and relationships with place, space and beings on/in the land, the focus is on the Blackfoot Confederacy and Ojibwa Nations.

Week 8: ADVANCED SEMINAR; North American Indians and Representations of Land

8 items

This week I would like you to watch the film Dances with Wolves (1990) or Disney's Pocahontas (1995). We will explore together the portrayal of the main protagonists, how and how they view the land.

Pocahontas 2001 (videorecording)

Audio-visual document Essential

Week 9: North American Indian Spiritual lifeways (part 2)

4 items

Continuing on from week 8, this week we explore rituals & rites and considers the notion of embodiment, the ambiguity of the notion of sacredness versus potency and focuses on, once more the Blackfoot and Obibwa but also examines the rituals of the Hopi (and Zuni) in relation to the 'Kachina Cult'. This section also addresses Pow-wowing; a once Plains tradition and now a signifier for North American Indian-ness.

Week 10: Aboriginal Australia spiritual traditions

8 items

This week we explore Aboriginal Australian Traditions, focussing on understandings of land and spirits in an Aboriginal Australian context, understandings of The Dreaming, and gender in relation to ritual specialists.

This set of readings focuses in the role of The Dreaming and its connections with land and spirits in Aboriginal Australian understandings. The Dreaming involves gender related ritual and as such we can consider both men's and women's 'business', and the role of ritual specialist. The Dreaming is one aspect of Aboriginal Australian tradition that has been appropriated in New Age literature, while the Didgeridoo, has been appropriated inter-tribally and inter-culturally – as aspect explored in our week looking at appropriation.

Week 8: ADVANCED SEMINAR; Trip talk

1 item

This week we will unpack the trip in relation to the various trips we have been exploring and start discussing possible other spiritual traditions you might wish to explore for your assessment; you have the wealth of a museum to choose from ;o)

Week 11: Maori spiritual traditions

6 items

This week we consider the Maori and explores Maori traditional spirituality in both Aoteraroa/New Zealand and in diaspora, the role of personhood in Maori spirituality, and the role of language in Maori spirituality. In exploring Maori traditions the set of readings focuses upon Maori art and other sacred objects/persons including Hinimihi (who is the only Whare Nui [Maori meeting house] in the Northern Hemisphere), and her use by the London Maori community. The Haka will be explored, especially the differing roles of men and women, picking up on issues of gender and ritual specialisms. In addition the concepts of personhood and Diapora will be addressed alongside the use of language and terminology such as tabu/taboo, which is used in common parlance often without an understanding of their origin and original meaning.

Week 12: 1-2-1 tutorials

2 items

In this session you have your 1-2-1s so please make use of this session to explore questions and queries about your upcoming assessment. This session is for level 5 students only.

Week 12: ADVANCED SEMINAR; 1-2-1 tutorials

1 item

In this week's session you need to book a tutorial to discuss your assessment. However, prior to this you must have negotiated a topic and draft title.

Indicative Reading

14 items
Creative Commons Attribution-NoDerivs 3.0 Licence
Profile Required
Reading intentions and notes are stored against your user profile. Please create a profile to use this feature.
My notes
You must be logged in to add a note
What are item notes?
You can use item notes to make personal notes on any of your reading items. Notes are private to you and will not be shown to other users.
You can review your item notes from the list, the item page or from your profile page.
---
How do I create an item note?
To make notes, first you must be logged in. Once logged in, simply click Add note? next to the list item you wish to make notes on. You can also make notes at the bottom of every item's detail page.
Your note will be saved automatically as you type.
Have you read this?
You must be logged in to set a reading intention
What are reading intentions?
Setting up reading intentions help you organise your course reading. It makes it easy to scan through your lists and keep track of progress. Here's an example of what they look like: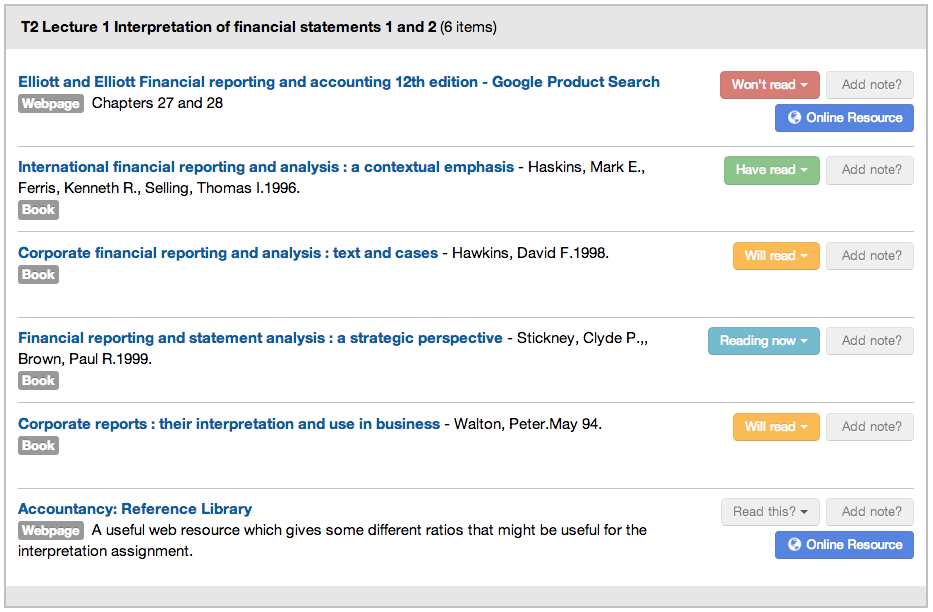 Your reading intentions are also stored in your profile for future reference.
---
How do I set a reading intention
To set a reading intention, first you must be logged in. Once logged in, click Read this? next to the list item you wish to set a reading intention for.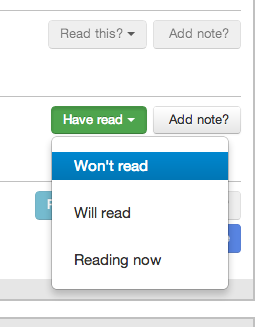 You can also set the reading intention from every item's detail page.